We're always telling you how to look after your hair but here's 6 ways to ruin your hair that you can't afford to miss.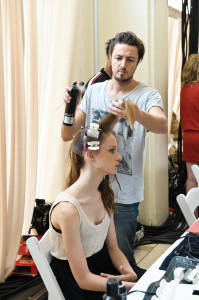 1. Use  a straightening iron that's too hot
Regularly  using an iron at 200 deg or hotter can cause extreme damage to fine or highly coloured hair. Often a much lower temperature is adequate, in order to gloss and smooth the hair and control flyaway or frizzy hair. Check out the Cloud Nine range of irons available at Cordony Hair, which have adjustable temps to keep the hair cuticle sealed- not frizzled!
 2. Using shampoos high in detergent based chemicals
With so many products on the market, it's hard to know which one to choose, and often a nice smell or pretty packaging is a big influence on choice! The problem is…most supermarket and chemist brands are very high in chemicals which dry and damage the hair and scalp. Always chose your haircare products from a hair salon, where a professional can help chose the right one for you. Sulphate free shampoos are a very gentle option for dry, damaged hair, and those with sensitive scalps. Trichovedic  and RPR Do Organics are  a beautiful Australian made sulphate free range
3. Failing to use a thermal protector or cuticle sealer when blowdrying or hot ironing
When we apply heat to the hair, the hair cuticle opens and is prone to damage. It's really important to protect the hair by closing the cuticle prior to heat application.Try Moroccanoil Heat Styling Protection, RPR My Argan Oil Treatment, or Kerastase Chroma Protect
4. Forgetting  to protect hair before swimming.
Swimming in chlorine or salt water really dries and damages hair, so it's important to apply a protector before you hit the surf or do your laps. Trichovedic Luxury Glossing Serum and  Kerastase Gelee Aqua Proof are perfect for this.
5. Skipping conditioner.
even if your hair is baby fine or you're a guy with short hair, there's no reason to skip conditioner. This leaves the hair cuticle wide open and vulnerable to damage and split ends. Talk to your hairdresser about a lightweight or volumizing conditioner such as Trichovedic  Volumizing Conditioner, or Moroccanoil Volume Conditioner.
6. Brushing your hair roughly when it's wet.
When hair is wet and tangled, we sometimes forget it's still vulnerable to being damaged if we forget to treat it with TLC. Using a detangling  spray  such as Unite  7 Seconds Detangler in  conjunction with a gentle Tangle Teezer brush will keep your hair silky smooth and tangle free without torturing it.
Tweet
---